Step on Nineteen (-19) in 2020 For Epilepsy Information
October 1st - November 10th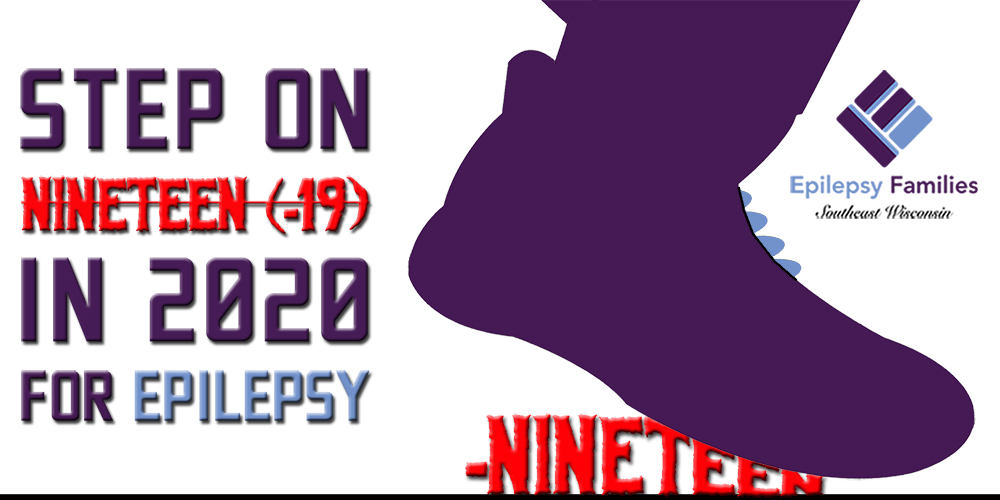 It's time for our annual fundraising event!
The coronavirus outbreak has had a profound impact on our lives. Because the health and safety of our community is a priority right now, Epilepsy Families Southeast WI has decided to hold a virtual fundraiser in lieu of our 20th annual Brainstorm Walk/Run event. It is a month-long virtual walk in Autumn, arguably the best time of the year to be outdoors in Wisconsin! The great thing about raising funds virtually? You do it your way; any time, any place, any pace!!
Our virtual fundraiser is called "Step on Nineteen (19) in 2020 for Epilepsy." We decided to temporarily change the event's name to one that better reflects our goals for this year. The walk began on Thusday, October 1st and ends on Tuesday, November 10th. The cost to register is $19.
Because we're a nonprofit organization, your financial support is needed and appreciated more than ever right now. The donations we receive, and the revenues we earn from our fundraisers make it possible for us to provide vital services to our communities. The pandemic has taken a toll on all of us, and we want to help. This year, we are donating 19% of our 2020 event proceeds to aid with COVID-19 assistance efforts in Wisconsin. The remaining income will be used for our epilepsy awareness and support services.
WALK WITH US!! Register to participate in our event, and ask everyone you know to sponsor you. Your contributions mean so much to so many people. The money you raise will allow us to address urgent needs created by the pandemic crisis, and continue to provide assistance and hope to those affected by epilepsy.
Detailed information about our walk is provided below.
Links to event information and forms can be found at the bottom of this page, and under the EVENTS tab on our website.
Step on Nineteen (19) in 2020 for Epilepsy: Registration
Registering:
The fee for participating in this year's virtual fundraiser is $19 and may be paid online via credit card or by check via the post office. If paying by check, please let us know so that we can watch for it in the mail.
Registering for the walk is easy! Just click the "Register" link, and it will take you to the registration form. Enter your contact information, and the mileage goal you have chosen for yourself. That's it! You're all set.
Participants will receive a registration packet before the event opens on Thurs, October 1st. This might be later date depending when you register. This packet will include more information, our EFSEWI window cling and a pedometer.
---
Donation Requests:
Feel free to request donations any way you'd like, but we suggest using
our internal email system and sponsorship letter to simplify the process.
To access the letter, click on the "Email Sponsors/Donors" link.
Another benefit of using our email system? It helps prevent duplicate donation requests. Participants can easily track each person they've contacted by sending themselves a receipt.
---
Social Media:
Social media platforms are an efficient and effective way to share information with large numbers of people. Over 2.5 billion people are currently using Facebook.
We have provided step-by-step instructions to help you create a post on Facebook.
They can be found by clicking the "Get Sponsors via Facebook" link.
Don't forget to join EFSEWI's Facebook page for event updates!
Epilepsy Families Southeast Wisconsin - Home | Facebook
---
Donations:
Sponsors can donate online by searching for their sponsee's name in the "Walker's Name" field on the donations form.
Donors have the option to choose what type of contribution they'd like to make.
The following options are available. I am:
sponsoring a participant

donating to the 2020 fundraising event
A receipt confirming the date and the amount donated will be emailed to every donor.
** Epilepsy Families of Southeast Wisconsin is a 501(c)(3) nonprofit organization. Contributions made are tax-deductible.
---
Step on Nineteen (19) in 2020 for Epilepsy: Guidelines
Our virtual walk started Thursday, October 1st at 12:01 am and ends

Saturday, November 10th at 11:59 pm.
Final mileage totals should be emailed to us at

abowser@efsewi.org

starting

Tuesday, November 10th through Thursday, November 12th.

** Do not worry if you don't reach your finish line.

Your mileage number is a goal, not a target set in stone. Enjoy being active, and take pride knowing your efforts are helping others in need.
Be Safe! Follow the CDC Guidelines, practice social distancing, and wear masks when appropriate.
Most Importantly, have fun!!
Our virtual walk takes place during Wisconsin's peak time for seasonal colors. Get out of the house and go for an adventure!

Take a walk through the wilderness, hike to an observation tower, get creative with some eco-friendly chalk.

Attend a fall festival, visit an apple orchard, or explore a pumpkin farm.

If you are walking, you are working toward your mileage goal!
Don't forget to grab your phones/cameras on your way out!! Let us know what you're doing and where you've been.

Take pictures and videos, and send them to us. Chosen submissions will be shared on our website.
---
Step on Nineteen (19) in 2020 for Epilepsy: Prize Incentives!
To motivate as well as recognize our participants this year, we are awarding prizes!
This is a first for EFSEWI, and we are very excited!
Participants have been divided into two groups based on age.
Group A: 17 yrs and under
Group B: 18 yrs and over
There will be 10 winners per age group. To be eligible for a prize, participants must raise a minimum of:

Group A (17 and under) - $100

Group B (18 and over) - $200

The top 3 fundraisers from each group will earn

our grand prizes

.
The remaining 7 will receive VISA gift cards.
We are encouraging winners of the gift cards to use them at local businesses to help our community recover losses suffered as a result of the COVID-19 pandemic.
Participants may request a running total of the money they've raised by emailing abowser@efsewi.org. This data will be compiled before noon every Sunday and emailed to participants on Monday.
The TOTAL amount of money raised by the Step on Nineteen (19) in 2020 for Epilepsy virtual fundraiser, and the NAMES OF OUR PRIZE WINNERS will be announced early in November.
---
Step on Nineteen (19) in 2020 for Epilepsy: Communications
We want everyone involved with our fundraiser to have a sense of camaraderie, and to feel welcomed and involved. Because we can't gather in person, EFSEWI will be conducting a series of Zoom meetings throughout the course of our virtual walk.
.
These meetings will be used to relay important information about the Walk, to get to know one another, to empower our teammates, and to ask and answer questions. Below is a list of meetings planned.
Schedule of Zoom Meetings (Thursdays @ 7PM)
Mtg

Date/Time

Agenda Topics

1

October 1st

READY, SET, GO!!

Address any last minute questions or concerns, encourage and cheer on all walkers, Q&As

2

October 8th; October 15th; October 22nd October 29th

Relay event information and updates, share experiences, progress, and milestones, view family-friendly pictures/videos, Q&As

3

November 5th

Walk updates, progress, and milestones, view family-friendly pictures/videos, Q&As

4

November 12th

Walk wrap up, share stories, announce totals, and congratulations to all!
Epilepsy Families of Southeast Wisconsin will not share participant, sponsor, or donor information with any person or entity. This includes names, addresses, phone numbers and credit card information.
Good luck everyone! All the links you need are below. Any questions feel free to contact me by email.




Adam Bowser
Community Outreach – Information & Research Specialist
Epilepsy Families Southeast Wisconsin
735 North Water Street, Suite 902
abowser@efsewi.org
Tele 414-271-0110
FAX 414-271-0800